Here we will discuss about photoshop eraser tools
Eraser Tool :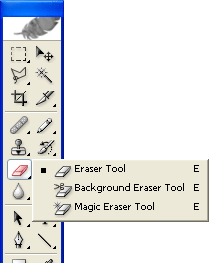 Eraser Tool
You can see
Eraser Tool
in the second band of icon.
There is three type
Eraser
. Mainly used for
erasing
pixels by drugging over image.
Background Eraser Tool: Used to remove background color a particular portion of image or layer.
You can apply various options from option bar.
Magic Eraser Tool :

This tool can erase same color with same options by one click. It almost like magic wand tool. But you don't' need to drug it.
You are requested to apply those eraser tools as a test basis before using on a original or important document, picture or photograph. It is better if you make a duplicate copy of photos or background then go for action as mentioned above.
If you are an advance photoshop user you can go through the following article.
Related articles